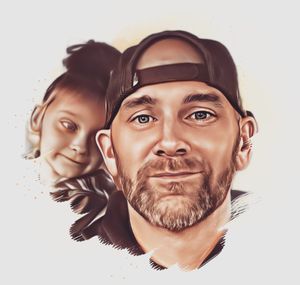 Derek Cate aka "The Singer Dad" is a singer/songwriter from Oregon.

He picked up the guitar at the age of 20. Although singing for fun along with the radio at a younger age he never considered himself to be a "Singer". His passion was basketball, it was his life. Until he picked up a guitar it all changed.

Derek's style of music is all over the map. Creating and covering songs from country to classic 80s to even hip hop and everything in between. Putting his personal experience to music with a passion not seen as much today. Derek captures the listener hanging on every word with a soulful unique voice and an ability to rap that sets him apart from everyone else.

In late 2007 he joined YouTube. Posting acoustic covers of some of his favorite songs, his audience started expanding from the US to overseas. With over 30+ Million video views to date on YouTube, and the emergence of TikTok his fan base continues to grow along with his music.
Derek often references his two daughters as inspiration and motivation. "Dad life is the best life I couldn't imagine my life without them my girls are my everything".